Rob Dyrdek's Wild Grinders or simply known as Wild Grinders is an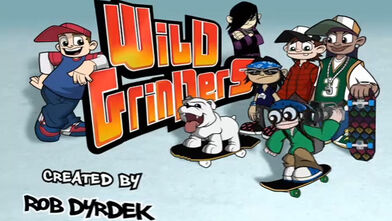 animated television series created by Rob Dyrdek, that airs on Nicktoons. The animated series is based on the childhood of Dyrdek and his first skateboard crew with the same name as the series, with the distribution of Moonscoop. The series first premiered on April 27, 2012. Reruns of episodes can be viewed on Kabillion on Demand. The series was renewed for a second season which premiered on December 23, 2013.
The skateboard themed series features the crazy hijinks of Lil' Rob (voiced by Dyrdek himself) and his best friends, Meaty (A English bulldog based on Dyrdek's real life dog named Meaty), Goggles, Jack Knife, Spitball, Emo Crys, and Jay Jay in Sprawl City. As well as Lil Rob's parents and his older teenage sister, Denise.
Community content is available under
CC-BY-SA
unless otherwise noted.